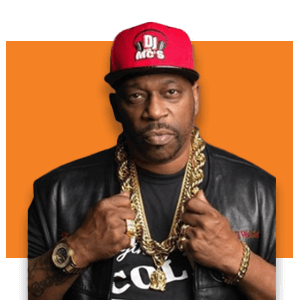 Born Curtis R. Brown, April 18, 1960 in The Bronx, NY
Hall of Fame DJ, World renowned MC, Lecture, Author, Historian, Host, Promoter, and Speaker.
GrandMaster Caz, started in Hip-Hop after witnessing DJ Kool Herc play in 1974.
Originally known as DJ Casanova Fly GrandMaster Caz teamed up with his high school friend Louie Lou aka DJ Disco Wiz and began his storied journey through the annals of Hip-Hop History. GrandMaster Caz and DJ Disco Wiz were in a Bronx park having DJ Battle in the summer of 1977 during the NYC BlackOut!
In 1978 GrandMaster Caz would pen the Lyrics that would eventually be used in Rap Music's first hit song "Rappers Delight" by the Sugarhill Gang, inadvertently making GrandMaster Caz "Hip-Hop's First GhostWriter"!
In 1980 GrandMaster Caz became Captain of the Legendary ColdCrush Brothers and they proceeded to become one of the most influential group in Hip-Hop's History.
Everyone from Run DMC, Big Daddy Kane, Will Smith, Rakim,Tupac, Nas, Biggie, Wu Tang, Freddie Foxx, Jay Z and more credit GrandMaster Caz and his ColdCrush Brothers as early influence and some have made their declarations on record....
"I'm overchargin ni**as for what they did to the Coldcrush"
Jay Z
"Ain't Nothing Like The Old School" Tupac Shakur. https://grandmastercaz.com/
https://www.youtube.com/watch?v=f1l2F8j6r3g