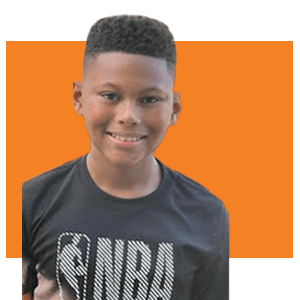 Chance A. Brown, affectionately known as a military brat, was born in Daegu, South Korea, where both his parents served in the US Army. By the time Chance was ten years old, he lived, in three countries and five cities.
Having attended both Department of Defense (DoDs) and US public school systems Chance, gained an excellent foundation for writing.
Chance, hobbies include participating in sports and playing video games. Typically, a quiet kid, he doesn't shy away from a little trash talk with his friends while dribbling on the basketball court or running up and down on the football and soccer fields. His favorite football team is the Philadelphia Eagles, and he avidly follows his favorite basketball team, the Golden State Warriors. Whether playing on the court or manipulating the controllers, Chance is passionate about his game. As a matter of fact, he fancies himself as the ultimate slayer on Madden, 2K, Fortnight, Rocket League and Roblox -- especially when he plays against his dad. Like Garfield, Chance's favorite meals include lasagna and cheeseburgers.
In the future, Chance aspires to write a sequel to his book, The Attack on Blobville, become a wide receiver for the University of Texas, El Paso, and ultimately get drafted to the NFL.